At Your Price Windows, we have installed and manufactured our own glass screens for our office. In response to the official Government guidelines suggested, we have put in place measures to keep our employees safe, healthy and well-prepared for a return to the workplace. This includes 2-metre social distancing guides, increased cleaning of our office and staff areas and easy access to hand sanitisers, encouraging hygiene etiquette.
Introducing glass or plastic desk dividers/guards are is a step that has been suggested and that we have embraced. As employers, we are being advised to review the layout of our workplaces so that staff can work either side-by-side or back-to-back and always at a 2-metre distance. By avoiding hot-desking, shared workspaces and through manufacturing our glass dividers we believe that we are taking appropriate precautionary measures on behalf of our staff.
Your Price Windows are very proud of the glass screens that we have manufactured and are keen to offer other workplaces the chance to further reduce potential transmissions by using our dividers in their offices. These dividers can be manufactured fully bespoke to individual requirements of size and space. Our team of installers will be able to easily fit our glass screens wherever necessary.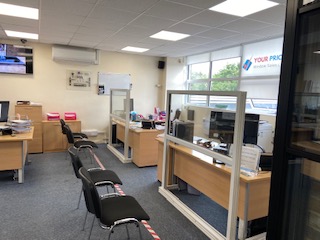 The glass screens that we have manufactured offer the perfect solution for the office workplace as they are easy to disinfect and maintain, ensuring that the risk to your staff will be further reduced. By their very nature, they will not obstruct views of the office or give your staff the feeling of being cut-off from their colleagues.
At Your Price, we know just how noisy an open place office can become, especially if your staff are spending time on the phone. One of the benefits of using glass as the material for our screens is that they are great for creating barriers that block out some of this background noise.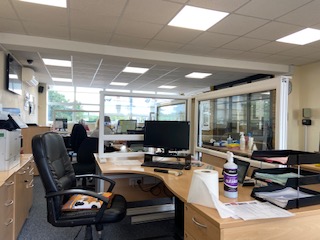 Our lightweight glass screens can be installed throughout your office as they are highly versatile. Whether you are looking to kit out your open-plan office, dividing your employee's desks, or installing a screen for your front of house reception, the team at Your Price are here to help.
Give us a call to discuss our glass divider screens today and we can help you to prepare your office for a safe return to work for you and your staff.