Sliding doors are hugely popular thanks to their large panels of glass, smooth operation and compatibility in spaces where traditional patio doors are installed. Therefore, if you're looking for a supplier, it's important to find a company who can deliver on everything you need. Here are some points to consider when choosing the right specialist to work with.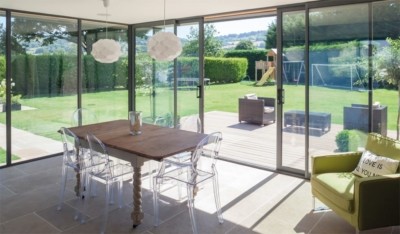 Trade Supplier
It's not just residential customers who search for a sliding door supplier. In fact, those looking for supply only services (rather than those which include installation) are usually trade customers such as house builders. Traits looked for in a specialist supplier include high quality products, but most of all, reliable services.
Sliding doors are a popular product due to their use at the back of properties, creating enhanced flow between inside and out, as well as great views and increased natural light.
Therefore, choose to partner with a company who deliver on their promises time after time to protect your reputation.
Bespoke Services
One of the easiest ways to get the look right for sliding doors is by finding a supplier who can produce bespoke designs. This covers everything from their size and style to custom features such as frame colours, hardware and finishing effects. If you select a supplier who only offers standard sizes rather than made to measure, you may find yourself liaising between suppliers. This wastes time, can lead to miscommunications (and costly errors!) and is frustrating keeping on top of 'who provides what'. You may also limit your own service options when meeting your client or build needs.
Leading Manufacturers
One of the signs that you've found a great sliding doors supplier to work with is the manufacturers they have access to. Manufacturers also have a reputation to protect, so if they've agreed to work with a supplier, it's a huge tick against their name. When considering the best sliding door manufacturers, three of the industry leading brands are Schuco, Origin and Smart Systems who all specialise in high quality aluminium doors. Schuco produces German-engineered luxury sliding doors, creating some of the largest designs on the market which means they're also great for commercial properties. Origin are a leading UK brand, recognised as one of the most reliable manufacturers in the industry thanks to their 20-year guarantee on products. Smart Systems deliver a great choice of sliding doors, and they're often chosen for their selection of colours and finishes, including the Sensations range which offers textured effects.
Ready to work with a reliable supplier?
Here at Your Price Windows, while we often work with homeowners and businesses, we also specialise in supply only services for trade customers across London, Surrey and the Home Counties. So, whether you're looking for a sliding doors supplier in Weybridge, Westerham or Kent, or you're looking for made to measure collections in Essex from leading manufacturers, we can help. Our specialists have built a fantastic reputation in the area thanks to our work as a trade outlet, and we have over 25 years of experience. Get in touch with our friendly team, receive free quotations and let us know your requirements.