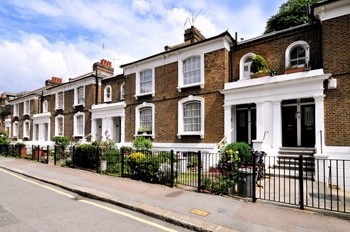 Gentrification is taking place all across London, Surrey, Essex and Kent, and turning run-down areas into vibrant, attractive and smart residential spots. Just look at Hackney: the once bleak working-class North East London borough has seen a dizzying transformation in the past few years, with independent coffee shops, cocktail bars and gastropubs popping up in every nook and cranny, frequented by young, trendy professionals with plenty of cash to spare. Indeed, according to research by Cambridge University, Hackney is one of the top five most up-and-coming boroughs in London, along with Tower Hamlets, Greenwich, Lambeth, and Hammersmith and Fulham, due to economic improvements within the neighbourhoods.
This means that the price of property across the UK (even in seemingly deprived areas) has skyrocketed in recent years. Gentrification has significantly pushed up the cost of renting in the city, or in areas that have good connections to the city, but it also means that the quality of rental properties in these areas is generally of a higher standard than it would have been, say, 10 years ago. For homeowners, gentrification is typically a good thing – meaning the value of your house or flat goes up as the neighbourhood grows in popularity. The rising cost of property also means that many homeowners are choosing to stay put in their homes and invest in home improvements, rather than upgrading to larger or more suitable houses.
Our window habits
Widespread gentrification has meant that many homeowners are investing in their windows in order to make their homes more attractive, energy-efficient and secure – adding to their property's value and making sure it meets their every need. Generally, this means upgrading to new double glazing with uPVC, timber or aluminium frames that make the property look smart, kempt and attractive. For properties with original period windows (for example, a Victorian London townhouse with sash windows, or an Edwardian house with timber casements), secondary glazing is becoming a popular option for homeowners who want to retain the original character while improving their home's insulation, security and soundproofing.
New homes that are popping up within gentrified areas must be fitted with windows that comply with the Building Regulations, meaning they have to be energy-efficient and secure. As such, homeowners who are living within redeveloped or gentrified spaces generally benefit from high-quality windows that are developed in line with the strictest standards.
Here at Your Price Windows, we manufacture, supply a wide range of windows and doors to revitalise properties that are looking a bit shabby or run-down. Contact us today to find out more.